Exe Valley String Quartet in 2019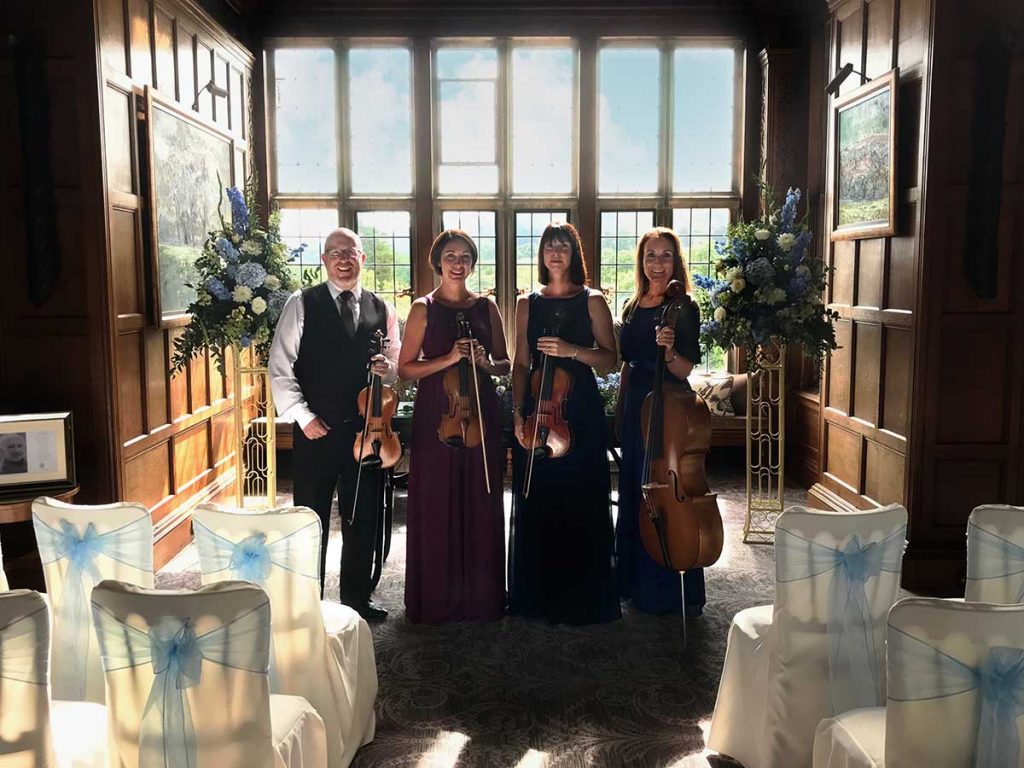 One of the loveliest parts of life as a musician is getting to play at joyous occasions such as weddings and birthday parties. We get to witness the nerves, excitement and happiness of the clients on their big day, whilst absorbing the buzz and enjoyment of the guests. Each event we attend is special in a unique way; clients have their own character and this is reflected in the choices they make for their celebrations. From the intimate to the grand-scale, the simple to the highly detailed, we are privileged to witness them all. And 2019 was no exception for the Exe Valley String Quartet.
The year started with a selection of wedding shows, which provided us with various commissions. Over the course of the year we exhibited at shows in Exeter, Torquay and at Bovey Castle, and spoke with many potential clients. It's always nice to meet the clients face to face and have an opportunity to discuss their favourite songs and repertoire. It's also lovely to watch the reactions that people have to our music as they walk towards our stand. The theme music from Game of Thrones always gets a particularly strong reaction!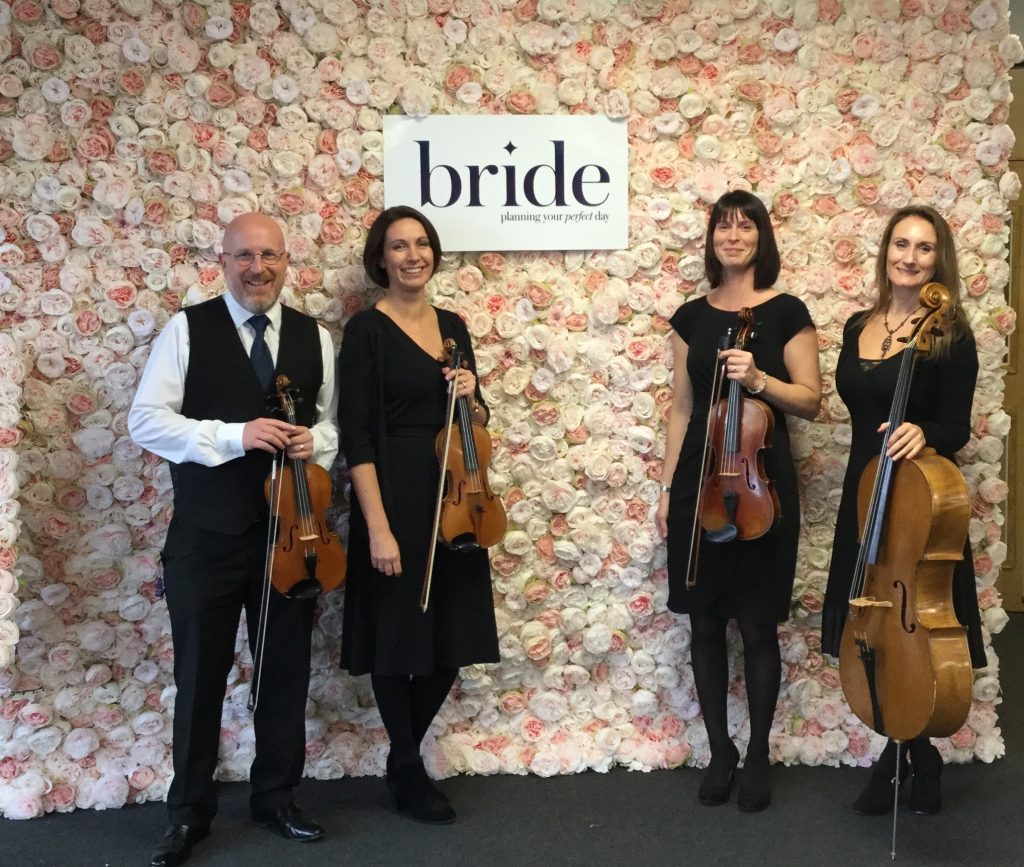 Our wedding schedule for 2019 was busy and wide spread. In May we had the pleasure of performing at Pencarrow House in Cornwall in glorious sunshine. There's nothing quite like sitting in a national trust garden, playing a Foo Fighters cover whilst wedding guests happily buzz around having a lovely time.
We also played some stunning weddings at our lovely 'regular' venues. Rockbeare Manor always creates the perfect romantic Georgian backdrop and, at times, is reminiscent of a scene from a Jane Austen novel. The acoustics inside work brilliantly for string quartet as it's so resonant and it works equally well for celebrations in the winter with its open fire and comfy lounge area.
Bovey Castle is also a favourite of ours and we had the pleasure of playing for weddings there again this year. In the hazy sunshine of August we sat and played on the terrace whilst the guests sipped Champagne and enjoyed the views of Dartmoor. And in the winter months we play near the impressive open fire whilst the guests enjoy the cosy country hotel atmosphere. Beaky the parrot often has a word or two to say and can ruffle a few feathers at times.
Other wedding venues we have enjoyed include Paschoe House, The Devon Hotel, Lakeview Manor, Ever After and Cadhay Manor. All unique and wonderful in their own right.
In addition to our wedding schedule we also offer live music for any event or party and this year we were given the (unusual) opportunity of some fancy dress up, which was highly amusing. In June we performed at a Titanic themed birthday party in Torquay and it was no surprise that they requested a rendition of 'What shall we do with the drunken sailor'. In October we provided pre-show entertainment at a screening of Downton Abbey at Teignmouth Pavilions. Dressing in a 1920's style was certainly amusing and we discovered that Kate could do The Charleston.
We rounded off our 2019 quartet adventures with a performance at the annual Christmas 'Light up a Life' service at Exeter Cathedral in December. This is an uplifting service of remembrance for lost loved ones and is always very moving. This time we played 'Something Inside So Strong' whilst the books of remembrance were brought forward. We also joined in with the singing of the carols and got into the Christmas spirit.
Looking forward to this year we have some upcoming wedding fairs booked, more details to follow – as well as a busy season of weddings and events. Wishing all of our clients and followers all the best for 2020.